Wind Turbine protection
Renewable energy sector
There are several areas within the renewable energy sector where we can help protect your equipment – shipping, storage, turbine operations and long term storage of spare parts.
Problem
Windfarms, both on and offshore, face some of the most difficult conditions for electrical and mechanical parts to deal with. Water vapours seep into generators, transformers and frequency converters, potentially halting operation entirely. Mechanical parts can also be affected in gearboxes and bearings not to mention the integrity of the windmill shell itself.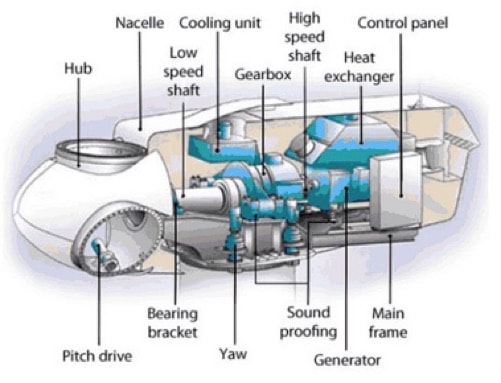 There are continual external repairs of rust pitting and scabs. These are difficult to access fixes, and often only short term. The inspection alone presents its own set of problems.
Getting your parts to the worksite for repairs without becoming contaminated is also an important consideration.
Solution
For external repairs, we can support you with high quality, multi detail inspections through our partners in the drone inspection business. These will provide essential reports on the asset integrity and maintenance required. Both in HD and infra red. Alternatively we can physically inspect the asset with our rope access qualified teams.
Our chemical inhibition products are perfect for long term storage, shipping and the internal conditions turbine parts face in operation. VCI's agitated into these systems protect critical switchboards and our films and greases can coat mechanical parts like gear boxes, and bearings. We also have the capacity to provide external pitting, scab and scratch repairs with our 30 year guarantee using Viscotaq.
When shipping or storing items, from small circuit boards to giant heat exchangers and turbines, we have both films and greases capable to protect all areas.