Protecting Flange Assemblies
PROTECT FLANGE ASSEMBLIES WITH A CORROSION INHIBITING WRAP
The Problem
Flange, valve and welded-joint corrosion costs clients millions annually!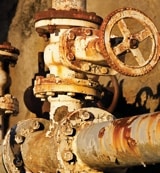 Complex geometry of flanges prevents effective surface preparation and coating
Frozen nuts and bolts
Weakened weld joints
Loss of containment
The Impact
Maintenance costs
Downtime required for dismantling corroded flange assemblies for inspections, equipment removal, flange blinding, etc.
Hot work repair of severely corroded flanges adds to downtime and costs
Labour and equipment repairs and logistics can be costly, especially for offshore facilities
Unscheduled stoppages due to corrosion-related leaks.
The Solution
Below outlines the features for the solution, Zerust Transparent Flange Savers.
Rugged & transparent UV-resistant film cover designed for severe outdoor exposure.
Proven Zerust Vapor Corrosion Inhibitor (VCI) in film.
Easy installation and removal in minutes without special equipment.
Transparent film allows for visual monitoring of corrosion and/or leaks inside the Flange Saver.
Provides up to four years of corrosion protection in outdoor and offshore environments.
Inexpensive, simple, highly effective and versatile.
Inhibits additional corrosion even after corrosion has started; little/no surface prep required.
Sized to fit standard flanges; custom sizes are available.
Provides corrosion protection for FPSOs, jetties, offshore platforms & rigs, and other applications.